Chicken Teriyaki
| | |
| --- | --- |
| Recipe Type: | Non Veg. |
| Difficulty: | Average |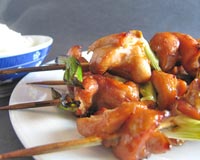 Ingredients:
2 pieces free range chicken breast, sliced
A little Vegetable oil
A little Flour
A little Grated ginger
2tbsp sake(rice wine)
4 tbsp dark soy sauce
Sugar as per taste
Marinated sweetened rice wine,
Mixed Green Salad (for garnish)
Cooking Instructions:
Mix sake, soy sauce and sugar in a bowl to make teri-yaki sauce.
Smear the chicken with flour.
Heat a little oil in a frying pan.
Sauté chicken on both sides to a golden finish and remove chicken from the pan.
Remove the left over oil from the pan.
Pour teri-yaki sauce into the pan and heat up to boil.
Simmer chicken well in the pan again on both sides and turn off the heat.
Add grated ginger to garnish.
Chicken teriyaki is ready. Serve it with salads.