Orange chicken
| | |
| --- | --- |
| Recipe Type: | Non Veg. |
| Difficulty: | Easy |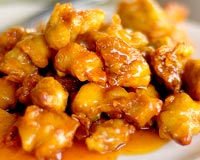 Ingredients:
4 Chicken breast halves, boneless and skinless
2 tbsp Butter or margarine
1/4 Cup onion, chopped
1- 1/2 Cup orange juice
1/2 tsp Leaf tarragon, crumbled
1/8 tsp Pepper
salt (optional)
1 Cup evaporated skim milk
Cooking Instructions:
Flatten chicken breast halves.
Sauté in butter in large skillet over medium heat till it turns brown and cooked through (about 8 minutes).
Remove to platter, cover and keep warm.
In same skillet, sauté onion until tender but not browned.
Add juice, tarragon, pepper/salt.
Stir in milk stirring constantly until hot and slightly thickened.
Orange chicken is ready.