Thai Chicken Wings
| | |
| --- | --- |
| Recipe Type: | Non Veg. |
| Difficulty: | Average |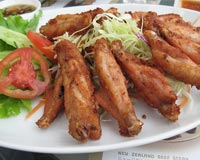 Ingredients:
5 Pounds frozen chicken wings
1 Cup chicken broth
1/2 Cup white sugar
1/4 Cup fish sauce
1/4 Cup crushed garlic
1/4 Cup finely chopped jalapeno chili peppers
2 tbsp Cornstarch
3 tsp Paprika
1 tbsp Olive oil
Cooking Instructions:
Preheat oven to 400 degrees F
Place chicken wings on a non-greased cookie sheet. Bake in the preheated oven for 45 minutes to 1 hour, turning once, until golden brown.
Put it in a serving dish/platter.
In a medium skillet sauté garlic and jalapeno peppers in olive oil until soft.
Add chicken broth, fish sauce, paprika and sugar.
Add cornstarch and let it thicken.
Thai Chicken Wings is ready.