Crepes Suzette
| | |
| --- | --- |
| Recipe Type: | Non Veg. |
| Difficulty: | Easy |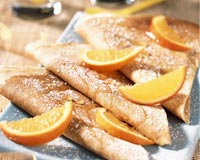 Ingredients:
Crepe mix
1 Cup plain flour
1 tbsp caster sugar
Pinch of salt
2 Eggs, beaten
1 Cup milk
80g Butter, melted
1 tsp vanilla extract

Sauce
80g butter
1/2 Cup orange juice
1/4 Cup caster sugar
1/4 Cup lime juice
1 tbsp orange zest
2 Oranges, segmented
2 tbsp Cointreau
2 tbsp brandy
Cooking Instructions:
In a medium sized bowl, put dry ingredients and make a well in the centre of the bowl.
Add eggs and milk gradually, and whisk until a smooth paste is formed.
Whisk in butter and vanilla extract, and allow standing in the refrigerator for 30 minutes.
Preheat a medium sized frying pan with a tablespoon of oil.
Pour about half a ladle of batter into the frying pan, and swirl the batter around until the whole surface of the pan has been covered. The batter and the resulting crepe should be thin.
As soon as the crepe is slightly browned and detached, turn it over and cook for a few seconds.
Continue until all the batter is gone

Sauce
Heat butter in a frying until melted, add the orange juice, caster sugar, lime juice and orange zest and bring to the boil.
Peel the oranges and cut into segments and add to the mixture.
Reduce the heat, and simmer for 2-3 minutes until sugar has dissolved and sauce has thickened.
Add the Cointreau and brandy, and simmer for 1 minute.
Place crepes into the sauce one at a time and allow to heat through for 30 seconds.
Fold the crepes into quarters, making sure the brownest sides of the crepes are facing up.
Crepes Suzette is ready.