Vol-au-vent
| | |
| --- | --- |
| Recipe Type: | Non Veg. |
| Difficulty: | Easy |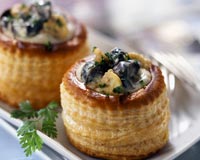 Ingredients:
1/2 Cup puff pastry dough
8 x 4 inches Square sheets
1 Egg yolk
1 tbsp Water
2 Round pastry cutters (3-7/8 inches & 2-1/4 inches)
Parchment paper
Flour for dusting
Cooking Instructions:
Preheat oven to 425ºF. Roll the puff pastry dough to 1/4 inch thick.
Divide the dough into 8 squares of 4 inches sides.
Place the squares on tray with parchment paper and refrigerate for 30mintues
Mixed together egg yolk and1 tbsp water, to make the egg wash.
To build Vol au Vent, using a pastry cutters, cut two circles of 3-7/8 inches in diameter in two pastry square. .
Brush one with egg wash; cut into the centre of the second one a circle of 2-1/4 inch, to obtain a ring.
Place the ring on the top of the first circle, edge to edge.
Place on tray with parchment paper underneath, refrigerate.
Repeat the operation for the following Vol-au-vent.
When ready, brush slightly with egg wash and bake for 25 to 30 minutes.
Let cool and remove lid and scoop out the inside to form a pastry case.
Vol-au-vent is ready.