Lemon Tart
| | |
| --- | --- |
| Recipe Type: | Non Veg. |
| Difficulty: | Average |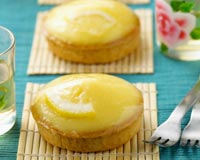 Ingredients:
Crust:
1 Stick marzipan
1 Stick butter
1 Egg
1 Cup flour
2 tbsp Flour
1 Pinch salt
1/4 tsp Almond extract

Filling
3 Eggs
3/4 Cup Sugar
3 Lemons - Juiced
1 tbsp Lemon Rind - Grated
3/4 Stick Butter -- Room temperature
Cooking Instructions:
Crust:
In a food processor, process marzipan until soft.
Put butter and process.
Add egg and blend.
Add flour and salt and pulse.
Remove dough from bowl, form into a ball, cover with plastic wrap andrefrigerate for 30 minutes.
Preheat oven to 375 Degree F.
Break off bits of dough and pat into tart shells.
Dough yields as follows: 18 tart shells 2-1/2 inch, 36 tart shells 1-1/2 inch , 48 mini tartlet shells
Bake in preheated oven for 10 - 14 minutes or until golden brown.
Remove from oven to cool.

Filling:
In medium saucepan whisk eggs, sugar, lemon juice and lemon rind until blended.
Cook over medium low heat, whisking constantly until mixture comes to a boil.
Immediately remove from heat and pour into bowl.
Cut butter into little bits and whisk into lemon mixture.
Refrigerate until cold.
Fill lemon mixture into tartlet shells.
Once tartlets are filled you have to freeze them in a singe layer on a cookie sheet.
When they are nice and frozen they can be placed into a plastic container in layers with a sheet of wax paper in between.
Lemon Tartlets are ready.
Defrost for about 10 minutes before serving.