French Onion Soup
| | |
| --- | --- |
| Recipe Type: | Non Veg. |
| Difficulty: | Average |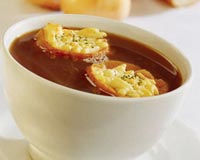 Ingredients:
1/4 Cup butter
3 Onions, thinly sliced
1 tsp White sugar
1 tbsp All-purpose flour
2-1/2 Cups water
1/2 Cup red wine
2 (10.5 ounce) Cans condensed beef broth
8 Ounces sliced Swiss cheese
Cooking Instructions:
Melt butter or margarine in a 4 quarter saucepan.
Stir in sugar. Cook onions over medium heat for 10 minutes, or until golden brown.
Stir in flour until well blended with the onions.
Add water, wine, and beef broth; heat to boiling.
Reduce heat to low. Cover soup, and simmer for 10 minutes.
Cut four 1 inch thick slices of bread from the loaf.
Toast the bread slices at 325 degrees F (165 degrees C) just until browned, about 10 minutes.
Ladle soup into four oven safe bowls.
Place 1 slice toasted bread on top of the soup in each bowl.
Fold Swiss cheese slices, and fit onto toasted bread slices.
Bake at 425 degrees F (220 degrees C) for 10 minutes, or just until cheese is melted.
French Onion soup is ready.