Stromboli
| | |
| --- | --- |
| Recipe Type: | Non Veg. |
| Difficulty: | Average |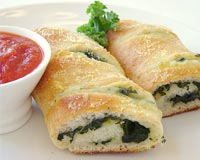 Ingredients:
2 (16 ounce) packages refrigerated pizza crust dough
1 (28 ounce) jar spaghetti sauce
1/4 Pound cooked ham, sliced
1/4 Pound capacola sausage, sliced
1/4 Pound salami, sliced
1/4 Pound pepperoni sausage, sliced
1 tsp Garlic powder to taste
1/4 Pound mozzarella cheese, shredded
1 Onion, sliced
6 Mushrooms, sliced
1 Green bell pepper, sliced
Cooking Instructions:
Preheat oven to 425 degrees F (220 degrees C). Let dough rise then punch it down, and divide it into 4 pieces.
On a floured surface, roll each piece of dough into a long oval shape.
Spread each with sauce, then layer with ham, capacola, salami, and pepperoni.
Sprinkle with garlic powder, and then top with mozzarella, onion, mushrooms and pepper.
Bring the long sides together over the center, and pinch together to seal.
Turn over, so that the seam is on the bottom, and place on an ungreased baking sheet.
With a sharp knife, cut 3 diagonal slices to allow the steam to escape.
Bake in preheated oven for 20 to 30 minutes, or until golden brown.
Stromboli is ready.