Cooker Naan
| | |
| --- | --- |
| Recipe Type: | Veg. |
| Calories Per Serving: | 538 |
| Difficulty: | Average |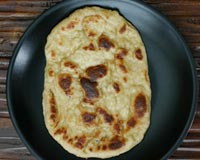 Ingredients:
500 gms Maida
20 gms Fresh Yeast
1-1/2 tsp Sugar
2 tbsp Fresh Curd
25 gms Butter, ghee or margarine
1 tsp Salt
Cooking Instructions:
Thoroughly sieve the flour and mix it with ghee, curd and salt.
Mix sugar and yeast in 1 teacup of warm water till the yeast gets dissolved.
Cover the mixture for 5-7 minutes until froth appears.
Pour this liquid into the flour mixture.
Add some warm water to make the dough soft.
Knead the dough for 5-10 minutes.
Wrap the dough with a wet cloth for half an hour.
Again knead the dough for 1 minute.
Make 20 small pieces out of the dough and shape them into naans.
Smear a pressure cooker with a little amount of oil. Remove its lid and heat upside down.
Apply a little quantity of water on any side and attach the wet side around the inner wall of the pressure cooker.
Cook it until the brownish spots appear.
Take them out and apply butter.
Naans are ready to serve.