Orange Squash
| | |
| --- | --- |
| Recipe Type: | Veg. |
| Difficulty: | Average |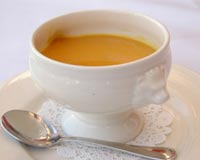 Ingredients:
5 cup Fresh Orange Juice
4 cup Water for sugar syrup
3 cup Sugar
1/8 cup Lukewarm Water
1/8 tsp Potassium Bi Sulphate (KMS)
A pinch of Sodium Benzoate
Cooking Instructions:
Heat a vessel and then put sugar and water into it.
Heat until sugar gets dissolved. Cool the mixture.
Add orange juice to this syrup. Mix it well and let it cool.
In lukewarm water, dissolve potassium Meta Bi sulphate and Sodium Benzoate. Add it to the syrup.
Stir the syrup until it gets absolutely blended.
Pour the squash in sterilized bottle and seal the cork with melted wax.
Leave for 15 days in a cool dry place.
To serve pour 2 tbsp of squash in 1 glass of water and stir it well.