Fish Biryani
| | |
| --- | --- |
| Recipe Type: | Non Veg. |
| Difficulty: | Average |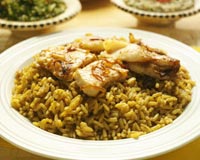 Ingredients:
2 Cups basmati rice
1 Cup tomato puree (preferably fresh)
1 Cup coconut milk
2 Cups of water
1 tsp Chili powder
1 tsp Garam masala(optional)
10-12 pieces of thorn less fish
1 Inch ginger
8 Flakes garlic
1 Cup yogurt
4-5 Green chilies
1 Bunch coriander leaves
1/2 tsp Turmeric
2 Onions sliced
2 tsp Oil
Salt to taste
Cooking Instructions:
For Marination:
Grind ginger, garlic, green chilies, turmeric, and salt into a fine paste.
And marinate the fish with it.
Sprinkle with coriander leaves and keep aside for at least 30 min

Rice Preparation
In a pan put 1 tsp oil and fry the rice for 2-3 min.
Then add the tomato puree, coconut milk and 1-1/2 cups of water.
Add salt, chili powder, garam masala and mix it very well.
Cover the pan with a lid.
Partially cook the rice (80%) on a slow flame.

Fish Preparation
In a pan put 1 tsp oil and sauté the onions to golden color.
Add marinated fish to it put some water and cover with the lid for 5-6 min
Do not to break the fish pieces when stirring.
< br>Final preparation
Take a baking dish, layer the rice then arrange the fish with its gravy and then again layer of rice.
Add the milk so that the rice doesn't dry.
Cover with aluminum foil and keep it in the preheated oven for 7 min.
Fish Biryani is ready.