Fish Curry with Coconut
| | |
| --- | --- |
| Recipe Type: | Non Veg. |
| Difficulty: | Average |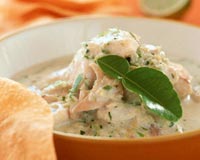 Ingredients:
10-12 pieces Fish (clean and cut)
1 Cup Fresh Coconut
6 Shallots
1 tsp Ginger root
4 Green chilies
1 tsp Turmeric Powder
8 Fenugreek Seeds
1 tsp Chili Powder
1 sprig Curry Leaves
5 Kudampuli
1/2 medium-sized Tomato (chopped)
Salt to taste
1 tbsp Oil
Cooking Instructions:
Take the pieces of fish and apply chili powder, turmeric powder and keep it aside for some time.
Heat the oil in a kadai. After the oil becomes hot, add the fenugreek seeds.
Also add shallots and ginger to the oil and fry them.
Add fish pieces to it and fry for few minutes.
Then add ground paste of coconut, green chilies, tomatoes and salt.
Add water as needed. Let it boil at high temperature.
When the fish gets cooked and curry boils up, add soaked Kudampuli.
Then lower the flame and add curry leaves to the curry.
Fish Curry with Coconut is ready.