Gosht Dopiaza
| | |
| --- | --- |
| Recipe Type: | Non Veg. |
| Difficulty: | Average |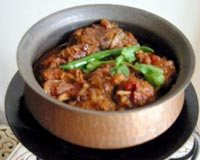 Ingredients:
1 kg Goat meat
3 Large onions, finely chopped
3 tsp Coriander powder
2 tsp Cumin powder
2 tsp Garam masala
1/2 tsp Turmeric powder
2 tbsp Garlic paste
2 tbsp Ginger paste
Salt to taste
3 tbsp Vegetable oil
1-1/2 cups water
Coriander leaves, for garnishing
Cooking Instructions:
Separate chopped onions into 2 portions - roughly 2/3 and 1/3 of the whole.
Heat oil in a large pan, on medium flame, and add the first lot of onions - the 2/3 portion.
Fry till golden-brown.
Add the meat and fry till browned.
Add all the powdered spices and fry for 2-3 minutes. Add salt to taste.
Add the remaining 1/3 portion of chopped onion, ginger and garlic pastes and mix well.
Add water, stir and bring to a boil.
Reduce flame to simmer and cook till the meat is tender.
Garnish with coriander leaves.
Gosht Dopiaza is ready.