Indian Okra
| | |
| --- | --- |
| Recipe Type: | Veg. |
| Difficulty: | Average |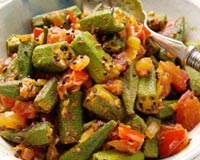 Ingredients:
1/2 kg Okra (small)
2 Onions, thinly sliced
2 Tomatoes, chopped
1/4 Cup oil
3/4 tsp Paprika
1 tsp Amchoor powder
1/2 tsp Turmeric powder
Salt to taste
Freshly ground pepper to taste
1 tsp Garam masala
Cooking Instructions:
Wash okra under running water and slice off the ends.
Cut each in half. Set aside.
In a wok or heavy skillet, heat the oil and sauté onions till they become translucent.
Add all the spices, except garam masala, and stir-fry for 2 minutes.
Add tomatoes and fry for 1 minute. Add okra and stir-fry for 2 minutes.
Cover and steam over medium heat, until tender (about 12-15 minutes).
Spoon the okra onto a warm serving plate and sprinkle with garam masala.
Indian Okra is ready.