Skeleton Cookies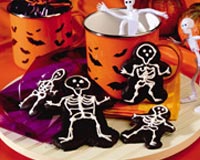 Ingredients:
30-40 drops Black Food Color
18 ounces Sugar Cookie Dough (refrigerated)
Skeleton or Gingerbread Man Cookie Cutters
1 tube White Frosting
Cooking Instructions:
Knead food coloring into cookie dough on lightly floured surface.
Wrap the dough in a plastic wrap and refrigerate until it becomes very firm.
Roll out dough on floured waxed paper to 1/8-inch thickness. Cut the dough with cookie cutters.
Bake the cookies in a preheated oven (350°F) for 9-13 minutes.
Now allow the cookies to cool for 1 minute on cookie sheet; remove and cool completely on wire rack.
Finally draw skeleton figures on cookies with frosting.
Skeleton Cookies are ready to eat.