Gingerbread Cupcakes with Cream Cheese Frosting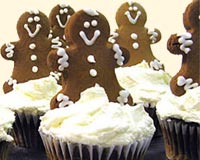 Ingredients:
1 Egg
1 Egg Yolk
5 tbsp Unsalted Butter
1/2 cup White Sugar
1/2 cup Molasses
1-1/4 cups All-Purpose Flour
1 tbsp Cocoa Powder
1-1/4 tsp Ground Ginger
1 tsp Ground Cinnamon
1/2 tsp Ground Allspice
1/2 tsp Ground Nutmeg
1/4 tsp Salt
1/2 cup Hot Milk
1 tsp Baking Soda
2 ounces Cream Cheese (softened)
2/3 cup Confectioners' Sugar (sifted)
1/4 tsp Lemon Extract
Cooking Instructions:
Preheat the oven to 175 degrees C and butter a 12-cup muffin tin.
Beat butter and white sugar; then add molasses, egg and egg yolk, and stir well. Kept it aside
Sieve together the flour, cocoa powder, ginger, cinnamon, allspice, nutmeg and salt. Keep it aside.
Dissolve the baking soda in the hot milk. Mix flour mixture and butter mixture well, and then add hot milk mixture. Pour this batter evenly into the prepared tin.
Bake the batter for about 20 minutes or till it becomes slightly spongy to the touch. Allow the cakes to cool.
To Make Frosting, beat 2 tablespoons of butter and cream cheese together. Add confectioners' sugar and beat until fluffy. Now add lemon extract and beat again.
When the cupcakes are cool, frost the tops with the frosting.
Gingerbread Cupcakes are ready to serve.