Monster Toes
| | |
| --- | --- |
| Recipe Type: | Veg. |
| Difficulty: | Easy |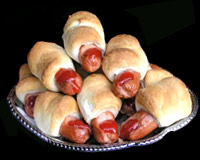 Ingredients:
Cocktail Wieners
6-inch Tortillas
Ketchup or Mustard
Damp Paper Towel
Toothpicks
Cooking Instructions:
Cut a block into the end of each cocktail wiener to make a toenail.
Cut the tortillas into strips about 4 inches long and 3/4 inch wide. Discard the ends.
Soften the strips by keeping them between damp paper towels for 10 to 30 seconds in the microwave.
Roll each wiener in a tortilla strip and secure with a toothpick.
Heat the oven to 350 degrees F and bake the toenail for 7 to 8 minutes.
Remove the toenail from the oven, and then fill the nail with ketchup or mustard. Remove the toothpicks before serving.
Monster Toes are ready to eat.