Shahi Paneer
| | |
| --- | --- |
| Recipe Type: | Veg. |
| Difficulty: | Average |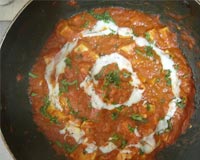 Ingredients:
250 g Paneer/Cottage Cheese (cut into large cubes)
3 chopped Tomatoes
1 chopped Onion
10 Cashew Nuts (ground to fine paste)
1½ tsp Ginger-Garlic Paste
1 tsp Chili Paste
1 tsp Tomato Paste
½ tsp Garam Masala
Salt (to taste)
½ tsp Chili Powder
A pinch of Cochineal
½ tsp Turmeric Powder
1 tsp Coriander Powder
Oil/Ghee (to fry)
2 tbsp Oil/Ghee
2 tbsp chopped Coriander (to garnish)
Cooking Instructions:
Heat 2 tbsp oil/ghee in a large saucepan and fry onion, until soft.
Add ginger-garlic paste and chili paste. Mix and fry until brown.
Add tomatoes and fry for another 6-8 minutes.
Remove from heat and bring down to room temperature. Put into a blender, along with ½ cup water and tomato paste. Grind into a puree.
Transfer back to the saucepan and bring to a boil on low heat.
Fry paneer in hot oil/ghee and remove. Ensure that you do not brown them.
Add garam masala, chili powder, turmeric powder, coriander powder, and salt. Mix well.
Add cashew nut paste and cochineal. Stir and cook on low heat for 5 minutes, or until the gravy turns thick.
Just before serving, heat the gravy and float fried paneer pieces on top.
Garnish with coriander leaves and serve.