Chocolate Cupcakes
| | |
| --- | --- |
| Serves: | 12 |
| Recipe Type: | Non Veg. |
| Preparation Time: | 15-20 M |
| Cooking Time: | 20 M |
| Difficulty: | Easy |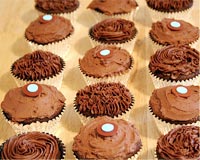 Ingredients:
1/2 cup Cocoa Powder
1 Egg
1 tsp Vanilla Extract
1-1/3 cups All-purpose Flour
1-1/2 tsp Baking Powder
1 1/2 tsp Baking Soda
1/2 tsp Salt
3 tbsp Butter
3/4 cup Dark Brown Sugar
2/3 cup Skim Milk
1/4 Cup Apple Sauce
1- 1/2 cup Sugar
12 Muffin Cups
Cooking Instructions:
Heat oven to 350 degree F.
Take paper liners and line all the muffin cups.
Sieve the flour and mix it with cocoa, soda, baking powder and salt in a bowl.
Now take a large bowl, cream together the butter and sugar until light and fluffy.
Add the eggs one at a time, beating well with each addition.
Add vanilla and stir the mixture.
Beat the ingredients for few minutes until combined.
Add milk to the flour mixture alternately until just combined.
Add flour mixture to applesauce mixture stirring until moistened.
Pour this preparation into muffin cups.
Bake it for about 20 minutes.
Remove and cool on wire rack for half an hour.
Chocolate Cupcakes are ready.