Salmon Latkes
| | |
| --- | --- |
| Recipe Type: | Non Veg. |
| Calories Per Serving: | 185 |
| Preparation Time: | 15 M |
| Cooking Time: | 8-10 M |
| Difficulty: | Easy |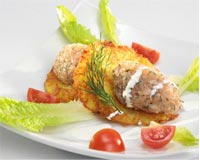 Ingredients:
1/2 cup Breadcrumbs
1 can Boneless Pink Salmon ( cut into chunks)
1 tbsp Fresh Dill (chopped)
2 Eggs
1/2 tbsp Fresh Lemon Juice
2/3 cup Onions(chopped)
1/2 tsp Black Pepper
Vegetable oil
Salt to taste
Cooking Instructions:
Combine the salmon chunks, onion, dill , salt and black pepper in a bowl. Mix well.
Add lemon juice, egg, egg white, and 1/2 cup of the bread crumbs and process again, just until combined.
Leave aside for about 15 minutes.
Shape the prepared mixture into latkes with wet hands.
Heat oil in a heavy skillet.
Deep-fry the latkes till they become golden brown on both sides.
Drain excess oil on paper towels.
Salmon latkes are ready to serve.