Heart Shaped Cake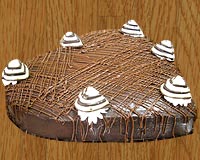 Ingredients:
For Cake
18.25 ounces White Cake Mix
3 ounces Red Jell-O Powder (Strawberry, Raspberry, or Cherry flavor)
1 cup Milk
3 Eggs
2 tsp Vanilla Extract
1/2 cup Butter (melted)
3 cups Buttercream Frosting

For Buttercream Frosting
1/2 cup Butter (softened)
4 tbsp Milk
3 - 3/4 cup Confectioner's Sugar (sifted)
2 tsp Vanilla Extract
Liquid Food Coloring (optional)
Cooking Instructions:
For Buttercream Frosting
Take a big bowl and beat butter in it with an electric mixer for 30 seconds. Keep the speed low.
Combine sugar, milk, and vanilla with it and now beat for one minute on low speed.
Now raise the speed of the mixer to medium and keep beating for another one minute till frosting is fluffy.
Now add food color to it. Just put few drops at a time.
Keep beating till the desired shade is reached.
If frosting is thin, add more confectioners' sugar and if it is thick, add milk.

For Cake

Preheat the oven to 350 degrees Fahrenheit.
Grease a 9 inches round cake pan and one 9 inches square cake pan properly. Dust uniformly with flour, keep it aside.
Take a big mixing bowl and add cake mix, Jell-O powder, milk, butter, eggs, and vanilla.
Now beat for one minute with an electric mixer, keeping the speed low.
Raise the speed of the mixer to medium and keep on beating for about two minutes, till the batter is soft and properly blended.
Now place the batter evenly in the two prepared pans.
Bake in the preheated oven for 25 to 30 minutes, till the light brown color is reached as well as a toothpick placed in the center of the cake comes out clean. Allow the cakes to cool on wire racks for about 10 minutes.
To make a heart shaped cake, rotate the square cake so that it seems to be a diamond.
Now make two semi-circles from the circle cake.
Set the semi-circles on the top two sides of the diamond to create a heart shape.
Use buttercream frosting and decorate the cake.