Blueberry Cookies
| | |
| --- | --- |
| Recipe Type: | Non Veg. |
| Difficulty: | Average |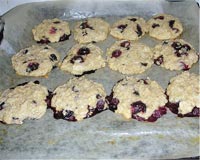 Ingredients:
1 Cup blueberries
2 Cups flour
2 tsp Baking powder
1 tsp Almond extract
1-1/2 tsp Lemon zest
1 Large egg
1 Cup sugar
1/2 tsp Salt
1/2 Cup vegetable shortening
1/4 Cup milk
Cooking Instructions:
Mix together the baking powder, flour and salt.
Cream the shortening and sugar in a bowl.
Beat the eggs and add it to the mixture.
Whisk in the milk, lemon rind and almond extract.
Combine dry ingredients and blend in gradually.
Now add the blueberries.
Cover and cool for about 4 hours.
Preheat oven to 375 deg F.
Put spoonfuls of dough onto an ungreased cookie sheet.
Bake them for about 15 minutes until golden.
Cool on wire racks.
Blueberry Cookies are ready.