Watermelon Boat
| | |
| --- | --- |
| Recipe Type: | Veg. |
| Difficulty: | Easy |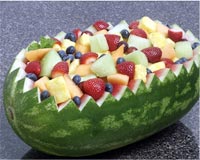 Ingredients:
1 large Watermelon
1 large Honeydew (cut into cubes)
1 large Cantaloupe (cut into cubes)
2 pints Fresh Strawberries (sliced)
1 cup Green Grapes
Cooking Instructions:
At first cut a thin slice from bottom of watermelon with a sharp knife to allow it to sit flat.
With a long sharp knife, cut the melon longitudinally and gently pull off the top section.
Cut the corner of melon in saw-tooth shape with a sharp knife.
Remove center with the help of a melon ball scoop, leaving an inch of melon fruit intact.
Now in a large bowl, combine honeydew, cantaloupe, strawberries, grapes and watermelon; spoon into boat and serve chilled.