Watermelon Cake
| | |
| --- | --- |
| Preparation Time: | 20 M |
| Cooking Time: | 30 M |
| Difficulty: | Average |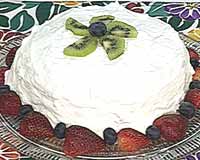 Ingredients:
1 package White Cake Mix
1 package Watermelon Gelatin
1-1/4 cups Water
2 Eggs
1/4 cup Vegetable Oil
2-1/2 cups Cream Cheese Frosting
Red and green gel food coloring
A few Chocolate Chips
Cooking Instructions:
In a large bowl, combine the cake mix, gelatin, water, eggs and oil.
Beat on low speed for 30 seconds then on medium for 2 minutes.
Pour this into two separate greased and floured 9-inch round baking pans.
Bake at 350° F for 30-35 minutes.
Cool for 10 minutes and then remove the cake to wire racks to cool completely.
Set aside 2 tbsps frosting for decorating.
Place 1-1/4 cups frosting in a bowl; tint red.
Tint remaining frosting green.
Place one cake layer on a serving plate; spread with 1/2 cup red frosting.Top with second cake.
Frost top with remaining red frosting.
Frost sides and top edge of cake with green frosting.
Cut a 1/4-in. hole in the corner of pastry or plastic bag. Fill the bag with reserved white frosting.
Pipe around top edge of cake where green and pink frosting meets.
For seeds, insert chocolate chips upside down into cake top.
Watermelon cake is ready.