Poached Pears
| | |
| --- | --- |
| Recipe Type: | Veg. |
| Difficulty: | Easy |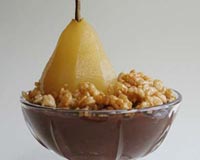 Ingredients:
4 Firm Pears (peeled)
4 cups Water
2 cups Sugar
1 Cinnamon Stick
1 Vanilla Pod
1 Lemon (peeled and juiced)
Cooking Instructions:
Place the water and sugar in a deep saucepan and gently heat it, stirring occasionally, until the sugar has dissolved.
Place the peeled pears in water along with the lemon peel.
When the sugar syrup is just below boiling point add the lemon peel and lemon juice, cinnamon stick and vanilla pod.
Stir, add the peeled pears and lower the flame.
Cook until the pears have softened.
Once cooked, remove the pears and leave them to cool outside of the syrup.
Poached Pears are ready to be served.