Spicy Pasta Arrabiata
| | |
| --- | --- |
| Recipe Type: | Veg. |
| Preparation Time: | 10 M |
| Cooking Time: | 15-20 M |
| Difficulty: | Easy |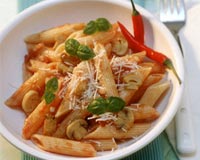 Ingredients:
300 gms Penne Pasta
1 Medium Onion
400 gms Tomatoes
450 ml Tomato juice
175 gms Cheese (grated)
2-3 cloves Garlic
Red chilli flakes
1 Green Pepper
1 tsp Basil
1 tsp Oregano
Dash of Red Grape Juice
Olive oil
Salt
Cooking Instructions:
Boil and strain the penne pasta.
Heat oil in a saucepan.
Add finely chopped garlic, onion, green chillies and fry till onions turn golden.
Add tomatoes and cook. Add tomato juice later.
Add basil, oregano, chili powder, grape juice and salt to taste.
Cook for about 3 minutes and add strained pasta.
Remove it from the flame.
Garnish with grated cheese and chili flakes.
Spicy Pasta Arrabiata is ready to serve.