Frozen Paneer Masala
| | |
| --- | --- |
| Recipe Type: | Veg. |
| Difficulty: | Easy |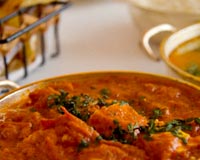 Ingredients:
1 pkg Frozen fried paneer
2 tsp Ginger-garlic paste
1 Onion (chopped)
4 tsp Coriander Powder
1 tsp Salt
2 tbsp Oil
Coriander leaves (chopped)
4 tsp Masala powder
2 tsp Chilly powder
1 Tomato (chopped)
Cooking Instructions:
Defrost the frozen fried paneer in a microwave. Keep it aside.
Now add oil in a pan and heat it.
Add garlic paste and ginger and stir, till it turns into brown.
Now add onions and stir, till onions become translucent.
Mix masala powder and coriander powder and stir.
Then tomato pieces with chilly powder and stir well.
Pour a little water, add salt and stir, till masala blends well in water.
Add paneer, cover the pan and cook on a medium flame for some time.
Now garnish it with coriander leaves and serve.