Dal Fry
| | |
| --- | --- |
| Recipe Type: | Veg. |
| Difficulty: | Easy |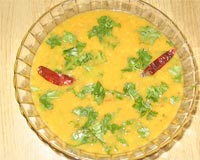 Ingredients:
1 cup Toovar Dal
3/4 cup Onions (chopped)
2-1/2 cups Water
1/2 tsp Turmeric Powder
3 tbsp Oil
1 tsp Garlic (chopped)
1 tsp Ginger (chopped)
1 cup Tomatoes (chopped)
1 tsp Green Chillies (chopped)
1/2 tsp Cumin Seeds
1 tsp Chilli Powder
1/4 cup Coriander Leaves (chopped)
Salt to taste
Cooking Instructions:
Take the dal and wash it properly.
Soak it in about 2-1/2 cups of water for half an hour.
Pressure-cook the dal until it is done.
Take oil in a frying pan and heat it.
Now, add chopped garlic, ginger, onion, cumin seeds and green chillies.
Fry the mixture on medium flame for 3 to 4 mintues. Stir the mixture periodically.
Put chopped tomatoes, turmeric powder, chilli powder and salt and fry again on a high flame for about 3 minutes.
Pour this mixture into cooked dal and mix thoroughly.
Dal fry is ready.
Serve it garnished with chopped coriander leaves.