Vegetable Biryani
| | |
| --- | --- |
| Recipe Type: | Veg. |
| Difficulty: | Average |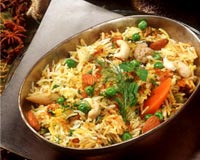 Ingredients:
1-1/2 cups Uncooked Rice
2 pinches Saffron (dissolved in a little water)
2 Onions (sliced)
2 tbsp Cashew nuts (broken into pieces)
2 tbsp Raisins
3 Tomatoes (finely chopped)
2 Capsicums (sliced)
2 cups (mixed boiled vegetables i.e. chopped cauliflower, carrots, potatoes, green peas)
1 tbsp Coriander Leaves (chopped)
A little Milk
4 tbsp Ghee
Salt to taste

To be ground into a paste:
6 Garlic Cloves
25 mm piece of Ginger
3 Cardamoms
4 Green Chilies
3 Cloves
1 tbsp Poppy Seeds
2 sticks Cinnamon
1/2 tsp Turmeric Powder
1/2 tsp Chilly Powder
2 Onions
6 Mint leaves
Cooking Instructions:
Boil the rice in a vessel containing adequate water, cook and drain excess water.
Add the saffron liquid and salt to the cooked rice. Mix well.
Heat the ghee and add the onions.Fry until brown.
Remove the onions and in the same ghee, add the cashewnuts and raisins.
Fry for a few seconds. Remove and keep aside for garnishing.
Add the prepared paste and fry for 3 to 4 minutes.
Add the tomatoes and capsicum and fry again for 2 to 3 minutes.
Add the boiled vegetables and coriander and cook for a while.
Put 2 tablespoons of ghee at the bottom of a baking bowl.
Make layers of the rice and vegetables, beginning and ending with rice.
Sprinkle a little milk on top.
Cover and bake in a hot oven at 200 degree C for 15 to 20 minutes.
Garnish with fried onions, cashew nuts and raisins and serve hot.