Khaja
| | |
| --- | --- |
| Recipe Type: | Veg. |
| Difficulty: | Easy |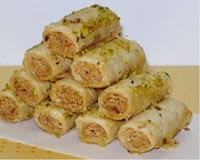 Ingredients:
1-1/2 cup All Purpose Flour
1 tbsp Ghee
1/2 cup Jaggery
1/4 tbsp Cardamom Powder
Cooking Instructions:
Heat 1 cup water and dissolve jaggery in it.
Strain the solution and cool it.
Add ghee and cardamom powder in the flour.
Knead this mixture with jaggery water.
Make the dough stiff. Divide it into 25 parts.
Roll out 4'' rounds from these parts.
Leave aside to make them a bit dry.
Fry in hot ghee until color turns golden brown.
Remove and cool till the khajas becomes crispy.
Khaja is ready to serve.