Kashmiri Biryani
| | |
| --- | --- |
| Recipe Type: | Non Veg. |
| Difficulty: | Average |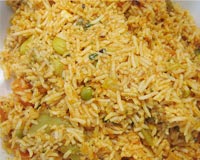 Ingredients:
750 gms Mutton
1 kg Chicken
1 kg Basmati rice
200 ml Milk
2 tsp Curds
1 tsp Dry ginger powder
1/4 tsp Cardamom powder
150 gms Ghee
1/4 tsp Kewra essence
2 gms Saffron
2 tsp Red chilli powder
1 Pinch asafoetida
1 tsp Garam masala powder
2 tsp Fennel seed powder
1/4 tsp Sugar
Salt to taste
Cooking Instructions:
Fry asafetida and mutton pieces in ghee.
Add curds to the mixture and fry till pink.
Pour water and add salt to taste. Mix well.
Add chilli powder, ginger powder and bay leaf.
Fry for a few minutes and add 1/2 litre water.
Add 1/2 tbsp garam masala and 1tbsp fennel seeds.
Simmer the mixture till well cooked.
Remove mutton pieces and keep them separate.
Boil 2 litres of water with 2 tbsp salt.
Tie garam masala and remaining fennel seeds in a piece of cloth.
Put it in the boiling water.
Now add rice and cook on low flame till half done.
Separate water from the rice.
Alternately arrange mutton and rice layers in a baking tray.
Add milk and ghee.
Cook in a preheated oven till well done.