Sweet Potato Latkes
| | |
| --- | --- |
| Recipe Type: | Non Veg. |
| Difficulty: | Easy |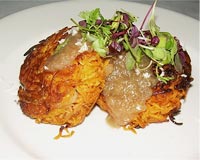 Ingredients:
450 gms Sweet Potatoes (peeled and grated)
1/3 cup All Purpose Flour
1/2 tsp Black Pepper
2 Large Eggs
2 Scallions (Finely chopped)
1 tsp Salt
3/4 cup Vegetable Oil
Cooking Instructions:
Combine grated potatoes, flour, scallions, eggs, pepper and salt in a bowl. Mix well.
Heat oil in a nonstick pan over high heat.
Drop 1/8 cup of the above mixture per latke into oil.
With the help of a slotted spatula, flatten the latkes to 3-inch diameter.
Reduce the flame to moderate and cook till golden brown.
Drain the latkes on a paper towel.