Banana Chips
| | |
| --- | --- |
| Recipe Type: | Veg. |
| Difficulty: | Average |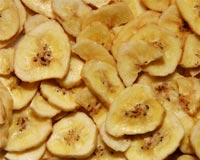 Ingredients:
5 Raw Bananas (peeled)
1/4 tsp Turmeric Powder
Oil for deep-frying
Salt to taste
Cooking Instructions:
Put the peeled bananas in salted iced water.
Chop the bananas in water and add turmeric.
Keep in water for 10 minutes and then drain out water completely.
Transfer to a kitchen cloth to remove the moisture.
Heat oil till it starts fuming.
Deep-fry the slices till almost crisp. Add few slices at a time.
Prepare paste of 1/2 tsp water and 1/4 tsp salt.
Add this paste to oil. This will make the slices crispier.
Repeat the procedure for remaining slices.
Drain the chips on an absorbent paper.
Cool and store them in an airtight container.