Panchamritham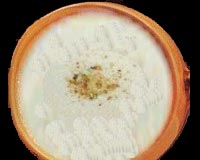 Ingredients:
1 Banana (finely chopped)
1 cup Fresh Milk
1 tbsp Fresh Curd
1 tsp Ghee
3 tsp Sugar
5 Tulsi leaves
Cooking Instructions:
Combine together curds, ghee, milk and sugar in a bowl.
Add finally chopped banana and tulsi.
Refrigerate the mixture before serving.
Panchamritham is ready. Serve it in tiny bowls.