Chilli Chicken
| | |
| --- | --- |
| Recipe Type: | Non Veg. |
| Difficulty: | Average |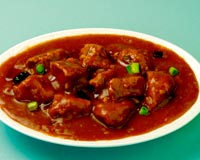 Ingredients:
1 kg Boneless Chicken (cut into small pieces)
20 Green chilies
15 tsp White vinegar
150 gms Corn flour
100 gms Refined oil
5 tsp Tomato sauce
1 tsp Sugar
10 tsp Soya sauce
20 Cloves garlic (sliced)
5 tsp Chili sauce
Salt to taste
Water as required
Cooking Instructions:
For at least four hours, soak the boneless chicken pieces in white vinegar.
Make a smooth batter of the corn flour and water.
Take the soaked chicken pieces out of the vinegar.
Dip them in corn flour batter and fry till it turns golden brown.
In a non-stick pan, heat 1/ 2 teaspoons of refined oil.
Add caramelized sugar and add the sliced garlic.
Add the fried chicken pieces.
Add all the sauces (soya, chilli, tomato) one by one.
Cook the whole thing for 5- 10 minutes.
Add the slitted green chillies over the preparation.