Banana Pie
| | |
| --- | --- |
| Recipe Type: | Non Veg. |
| Difficulty: | Easy |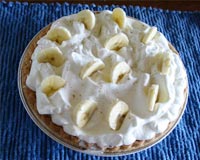 Ingredients:
4 Ripe Bananas
1/4 Cup Flour
2 Egg Yolk
1 Cup Boiling water
1 tbsp Butter
1 Cup Dark brown sugar
1/4 tsp Salt
1/4 Cup Cold water
1/2 tsp Vanilla
1 Baked Pastry shell
1/4 Cup Evaporated milk
Cooking Instructions:
Mix flour, dark brown sugar and salt in a saucepan.
Stir in egg yolks and cold water.
Beat to make a smooth paste.
Stir in the boiling water slowly.
Cook for about 3 minutes until thick.
Stir in evaporated milk, butter and vanilla.
Arrange banana slices in the cooled pastry shell.
Cool and pour the mixture of evaporated milk, butter and vanilla into pastry shell.
Top the pie with whipped cream.
Cover and refrigerate for at least 4 hrs until the pie is set.
Banana Pie is ready to serve.