Moussaka
| | |
| --- | --- |
| Recipe Type: | Non Veg. |
| Difficulty: | Average |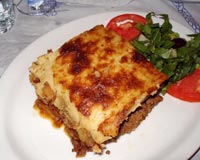 Ingredients:
For the Base:
9 Indian Eggplants
2 Potatoes
1 tbsp Olive Oil
1 cup Mozzarella Cheese
1/2 cup Parmesan Cheese
1/2 cup Breadcrumbs

For the Meat:
40 gm Ground Beef
1/4 cup Onion
1/4 cup Parsley (freshly chopped)
2 Fresh Tomatoes (chopped)
2 tbsp Olive Oil
Salt and pepper to taste

For the Béchamel sauce:
1/2 cup Butter
2/3 cup Flour
3 cups Warmed Milk
3 Eggs
Cooking Instructions:
Place the potato and eggplant slices on an oil pan.
Put it in the oven for 10 minutes.
Flip the eggplant and potatoes and cook the other side for another 10 minutes.
Once eggplant is ready, remove from the pan and let them dry on paper towel.
Now to prepare the meat, take a large skillet and heat it on high flame.
Add olive oil, beef, onion, and garlic.
Next add salt, pepper, and parsley.
Once the meat has browned add the tomato juice.
Let the meat cook until all the juice is gone.
Be sure to stir the meat continuously. Once the meat has cooked, set aside.
Now to prepare the sauce, heat the butter in a medium pot.
Mix in the flour and then add 3 cups of milk to the mixture.
Stir continuously as the mixture begins to thicken.
Once the mixture begins to boil, it will thicken.
Once the sauce has begun to thicken, remove it from the heat.
Now preheat the oven at 325 degrees F.
Place the potato slices on the bottom of a gresed pan.
Layer the pan with half of th e sliced eggplants.
Next, spread about half of the shredded mozzarella cheese and a sprinkle of parmesan cheese.
Next, add the cooked ground beef. Spread the mixture evenly onto the cheese.
Place the remaining slices of eggplant over the meat.
Spread the remainder of the mozzarella cheese on top of the eggplant.
Before adding sauce to the moussaka, fold in 3 beaten eggs into the sauce.
Once the eggs are mixed in, pour the sauce evenly over the moussaka.
Sprinkle some parmesan cheese and about half a cup of breadcrumbs over the moussaka.
Cook at 325 degrees for 1 hour and enjoy.