Mushroom Stir Fry
| | |
| --- | --- |
| Recipe Type: | Non Veg. |
| Difficulty: | Average |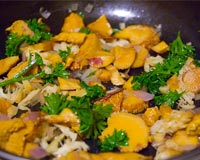 Ingredients:
3/4 ounces Dehydrated Mushrooms
3 Skinless Chicken Breasts
3 Carrots
1 cup Baby Corn
1/4 cup Canola Oil
1 Red Bell Pepper
1 cup Snow Peas
1 cup Scallions
6 cloves Garlic (minced)
2 tbsp Sherry
8 cups White Rice (cooked)
1 tbsp fresh Ginger (minced)
2 tbsp Low Sodium Soy Sauce
3/4 cup Cashews (halved)
Water to soak mushrooms
Cooking Instructions:
Soak the dehydrated mushrooms in boiling water for 20 minutes.
Heat 1/2 of the oil in a hot wok.
Add chicken cubes; cook until it turns tender.
Remove chicken and put it aside.
Add rest of oil to wok.
Add red bell peppers, carrots, bok choy, baby corn, snow peas, scallions, and dehydrated mushrooms (reserving liquid).
Fry it for 3 - 4 minutes.
Remove and reserve with chicken.
Add the reserved liquid, cashews, ginger, garlic, sherry, and soy sauce. Cook for 2 minutes.
Return vegetables and chicken to wok.
Heat 1 minute longer. Serve atop white rice.