Whole Wheat Bread
| | |
| --- | --- |
| Recipe Type: | Veg. |
| Difficulty: | Easy |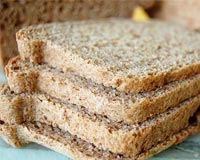 Ingredients:
1/4 cup Vegetable Oil

For Dough preparation:

3-1/2 cups Whole Wheat Flour
1/3 cup Milk
1/4 cup Honey
1 cup Warm Water
1-1/4 tsp Salt
1 packet Dry Yeast
Cooking Instructions:
In large mixing bowl combine all the ingredients necessary for dough preparation.
Stir until mix and then place the dough on a lightly flour surface.
Knead well for 6 to 10 minutes or until the dough become smooth.
Place a small amount of oil in a large bowl and place the dough in it.
Flip the dough to cover the dough with oil and cover it with a towel.
Let the dough rise for approx. 1 hour, the dough should double in size.
Take the dough out of the bowl and place on a lightly floured surface.
Shape the dough into a 8 inches log and place into a lightly grease loaf pan.
Loosely cover the pan with lightly oil plastic wrap and let raise for 30 to 60 minutes until the dough raises approx.1 inch above the pan.
Preheat oven to 350 degrees F place in center of oven and cook for about 40 minutes.
Let the bread cool on a rack then slice.
Whole Wheat Bread is ready.