Pumpkin Pie
| | |
| --- | --- |
| Recipe Type: | Non Veg. |
| Difficulty: | Average |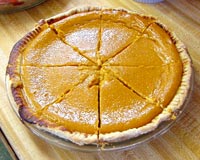 Ingredients:
1 Unbaked Pie Crust
1 cup Sugar
1-1/2 tsp Ground Cinnamon
1 tsp Ground Cloves
1 tsp Ground Allspice
1/2 tsp Ground Ginger
1/2 tsp Salt
4 Large Eggs
1.5 cans Evaporated Milk
Cooking Instructions:
Wash the pumpikin under running water, cut it in half and scoop out the seeds.
Scrape the stringy, dangly stuff that coats the inside surface.
Chop it into small pieces,cook in a pressure cooker till tender. Discard the skin.
Make a puree of the soft cooked pumpkin with the help of a blender and keep it aside.
Preheat oven to 425 degree F.
Combine sugar, all spice, salt, cinnamon, ginger and cloves in small bowl.
Beat eggs lightly in large bowl. Stir in pumpkin and the above mixture.
Gradually stir in evaporated milk. Pour this into the pie shell.
Bake for 15 minutes.then reduce the temperature to 350 degree F. Cook for another 45 minutes.
Allow the pumpkin pie to cool for 2 hours.
Top it with whipped creamand serve immediately.