Ginger Sandwich Cookies
| | |
| --- | --- |
| Recipe Type: | Non Veg. |
| Difficulty: | Average |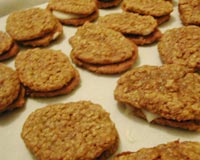 Ingredients:
1/4 tsp Ground Ginger
3 tbsp Boiling Water
2-1/2 tsp Baking Soda
1 cup Margarine
3 tbsp Boiling water
4-1/2 cups All-Purpose Flour
1 Egg
1/2 cup Molasses
2-1/2 cups Confectioners' Sugar
1 tbsp Margarine
1/8 tsp Salt
1 cup White Sugar
Cooking Instructions:
In a medium bowl, cream together margarine and white sugar.
Beat in the egg and molasses until well blended both.
Dissolve baking soda in boiling water; stir into the egg and molasses mixture.
Later, mix in the flour to make dough.
Cover and allow it to chill for at least one hour.
Preheat oven to 350 degrees F.
Roll the dough out to considerable thickness.
Cut into circles.
Put cookies 1 inch apart onto cookie sheets (un- greased).
Bake for ten minutes in the preheated oven.
Let cookies to cool entirely before sandwiching.
Frost cookies (frost) and put a cookie with the center hole on top.
To prepare the frosting: Beat margarine and water altogether.
Blend in the salt and ginger.
Bit by bit; beat in the confectioners' sugar until the required consistency is accomplished.
Sandwich in between cooled cookies.