Maple Meringues
| | |
| --- | --- |
| Recipe Type: | Non Veg. |
| Difficulty: | Easy |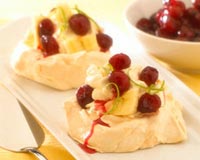 Ingredients:
1/2 tsp Maple Flavored Extract
1/4 cup Confectioner's Sugar
3/4 cup Granulated Sugar
1/4 tsp Cream of tartar
4 Egg Whites
Cooking Instructions:
Preheat the oven to 300 degrees F.
Place cookie sheets with parchment paper.
In a large glass, beat egg whites with cream of tartar.
One after another, mix confectioners sugar 1 tablespoon at a time and white sugar while continuing to whip.
Mix in the maple extract.
Pour meringue onto the prepared cookie sheets in 1-inch circles.
Place onto the oven, and reduce the temperature to 250 degrees F.
Bake it until cookies turns dry.