Chicken Korma
| | |
| --- | --- |
| Recipe Type: | Non Veg. |
| Difficulty: | Easy |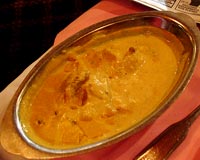 Ingredients:
4 Boneless chicken breasts (cut into pieces)
1 Large Onion (chopped)
2 tsp Tomato puree
1 tsp Ground Coriander
200 ml Whipping Cream
Salt and Freshly Ground Black Pepper
1/2 tsp Turmeric Powder
4 cm piece of Fresh Ginger (grated)
4 Cardamom Pods (crushed)
3 Garlic Cloves (crushed)
50 gms Flaked Almonds (roasted)
1-1/2 tsp Ground Cumin
75 gms Ground Almonds
1/4 tsp Ground allspice
4 Whole Cloves
1 tsp Mild Chilli Pepper
2 tbsp Vegetable Oil
250 ml Chicken Stock
Cooking Instructions:
Fry the onion, cloves and cardamom pods in a frying pan until the onion begins to soften.
Mix the garlic, chicken and ginger; stir-fry for 4 minutes, then add all the remaining spices.
Stir, allowing them to permeate their flavor into the chicken.
Add the ground almonds, tomato puree, stock and cream and cook until reduced to the consistency of thick cream.
Then layer over the roasted almonds and serve with naan bread.