Fast Food Biscuits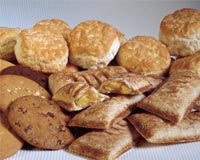 Ingredients:
1/3 cup Buttermilk
2 cups Baking Mix
2 tbsp Butter
1/4 cup Lemon flavored Carbonated Beverage
Cooking Instructions:
Preheat oven to 450 degrees F and grease it with a baking sheet.
Mix buttermilk and soda into a bowl and stir in baking mixing until dough pulls together.
Now knead the dough until smooth.
Then flatten the dough and cut it into 6 rounds.
Put the biscuits on pan and smear with melted butter.
Now bake in the oven until it turns golden brown.
Allow it to cool for 10 minutes before serving.