Cherry Pound Cake
| | |
| --- | --- |
| Recipe Type: | Non Veg. |
| Difficulty: | Easy |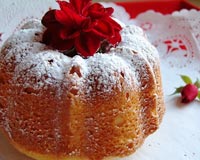 Ingredients:
1 Cup maraschino cherries, halved
2 Cups all-purpose flour
1/2 Cups white sugar
1 tsp Vanilla extract
1 Cup butter
4 Eggs
1/2 tsp Salt
3 tsp Baking powder
1 tsp Almond extract
1 pkg Cream cheese
Cooking Instructions:
Preheat oven to 165 degrees C.
Grease and flour an 8-inch tube pan and mix the baking powder, flour and salt and keep aside.
In a bowl, smear together the cream cheese, butter and sugar until it turns fluffy.
Beat the eggs and then stir in the almond extract and vanilla.
Then beat in the flour mixture just until well blended. Dredge cherries in 1/4-cup flour, and then fold into batter. Smear into prepared pan.
Bake in the oven for 80 minutes.
Allow it to cool in pan for 10 minutes. Serve.