Jelly Doughnuts
| | |
| --- | --- |
| Recipe Type: | Non Veg. |
| Difficulty: | Average |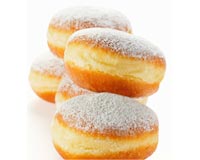 Ingredients:
3/4 Cup any flavor fruit jam
4-1/2 Cups bread flour
1 Cup warm milk
1-1/2 tsp Ground nutmeg
1/3 Cup water
3/4 Cup white sugar
2 Quarts vegetable oil for frying
1 Egg, beaten
1 tbsp Active dry yeast
1 tsp Salt
3 tbsp Margarine, melted
Cooking Instructions:
In a bread machine pan mix the milk, water, beaten egg, salt, melted butter, sugar, bread flour, nutmeg and yeast. Keep bread machine to the sweet dough cycle.
Turn dough out onto a floured board and cool it for ten minutes.
Roll dough out to 1/4-inch thickness; then cut it into 2 1/2 inch rounds.
Place jam in center of half of the prepared rounds.
Moisten the edges with chill water; top with the remaining rounds.
Place the doughnuts on a greased sheet and cover.
Allow it to rise until doubled about 45 minutes.
Heat oil in fryer to 175 degrees C and fry either layer of doughnuts at a time until golden brown.