Baingan Raita
| | |
| --- | --- |
| Recipe Type: | Veg. |
| Difficulty: | Easy |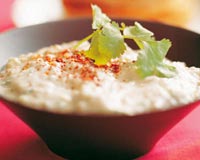 Ingredients:
2 Egg plant
1 Cup yoghurt
1 tbsp Extra virgin olive oil
1/2 Inch piece ginger, peeled
2 Garlic cloves
2 Green chillies
1 Small red onion
1 tsp Dry roasted and ground cumin
Juice of 1/2 lemon
Small bunch of coriander leaves
Salt to taste
Cooking Instructions:
Make one small cut on the side of each aubergine (Baingan) helping steam to escape and stop the aubergine from bursting during roasting.
Smear oil on the aubergine and roast in a grill, keep turning over frequently for thirty minutes or till it becomes very soft to touch.
Allow it to cool.
Peel the skin off and remove the stalks.
Now place the flesh with all other ingredients in a food processor and process until blends and mixed well. But, donot turns them into a paste.
Add the mix to the yoghurt and fold it in.
Garnish with a few coriander leaves (chopped) and a drizzle of olive oil.
Serve cool.