Colorful Rice Salad
| | |
| --- | --- |
| Recipe Type: | Non Veg. |
| Difficulty: | Easy |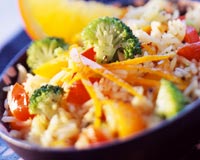 Ingredients:
2 Cups cooked rice
1/3 Cup sweet pickle relish
2 Cups shredded cheddar cheese
Cherry tomatoes
Lettuce leaves
6 Green onions, chopped
1 Jar diced pimiento
4 Eggs, hard-boiled, chopped
1 Cup cooked ham, diced
1/2 Cup chopped parsley
1 pkg Frozen peas, cooked and drained
3/4 Cup pimiento-stuffed olives, sliced
1/4 Cup mayonnaise
Cooking Instructions:
Add peas, eggs, pimiento, ham, parsley, relish, olives, rice, chopped onions, and cheese; and stir well.
Mix salad dressing, tossing until well blends. Allow it to chill and then serve on lettuce leaves.
Garnish with cherry tomatoes and serve.