Creamy Potato Salad
| | |
| --- | --- |
| Recipe Type: | Non Veg. |
| Difficulty: | Easy |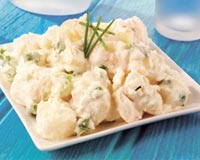 Ingredients:
6 Round red potatoes
2 tbsp Prepared mustard
1 tbsp White wine vinegar
1/4 Cup low-fat sour cream
1/4 Cup chopped green onions
2 Ounces diced pimiento, drained
1/2 tsp Salt
1/2 Cup nonfat mayonnaise
1/8 tsp Garlic powder
Cooking Instructions:
Place cut red potatoes in a water filled saucepan and bring it to boil for 15 to 20 minutes until tender.
Drain and cool it for a while.
Mix potato, pimiento and chopped green onions in a large bowl; toss gently.
Combine mayonnaise and stir well. Then add to potato mixture.
Cover and chill. Serve.