Thai Noodle Salad
| | |
| --- | --- |
| Recipe Type: | Veg. |
| Difficulty: | Average |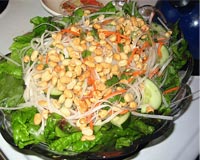 Ingredients:
8 Ounces bean thread noodles
1 Red bell pepper, julienned
1/4 Cup soy sauce
1/4 Cup sugar
1 Cup julienned carrots
1/2 Cup lime or lemon juice
1/2 Cup dry-roasted peanuts
1 Inch piece ginger root, peeled and sliced
2 Chili peppers
1/2 Cup cilantro leaves
Cooking Instructions:
Boil water in a pot.
Remove the pot from heat and add noodles, carrots and pepper.
Leave until noodles turn tender. It will take about 10 minutes.
Drain the noodles and transfer to a bowl. Allow it to cool.
Mix lemon juice, soy sauce and sugar in a bowl.
Whisk the mixture until sugar gets dissolved.
Put chilies, peanuts, ginger and cilantro in a food processor. Pulse the processor until finely chopped.
Add this mixture to noodles and mix.
Add soy sauce mixture and toss to mix.
Garnish with cilantro leaves and serve.